Upcycled tie-dyeing scarf workshop
Behind the scene of the blooming colours from our wardrobes, there are tonnes of unseen chemical dyes and sewage from dyeing factories which are polluting our water and lands continuously. In view of this, BU HOUR 1300 is organising a series of low-carbon lunch hour workshops in the theme of low-carbon lifestyle, which not only aims to promote low-carbon lifestyle, but also encourage colleagues to leave the office to relax during lunch hour and in doing so, turn off all unnecessary electrical appliances to save energy and reduce carbon emissions.
Back in the old days without chemical dyes, people used to dye their fabrics with botanic dyes extracted from nature that degrade naturally without harming our water and land resources. With some simple tie-dyeing techniques, we can easily 'spice-up' our clothes, scarfs and bags and avoid pollution. Let's follow the little steps we learnt from the BU HOUR 1300 upcycled tie-dyeing scarf workshop and make a unique DIY scarf!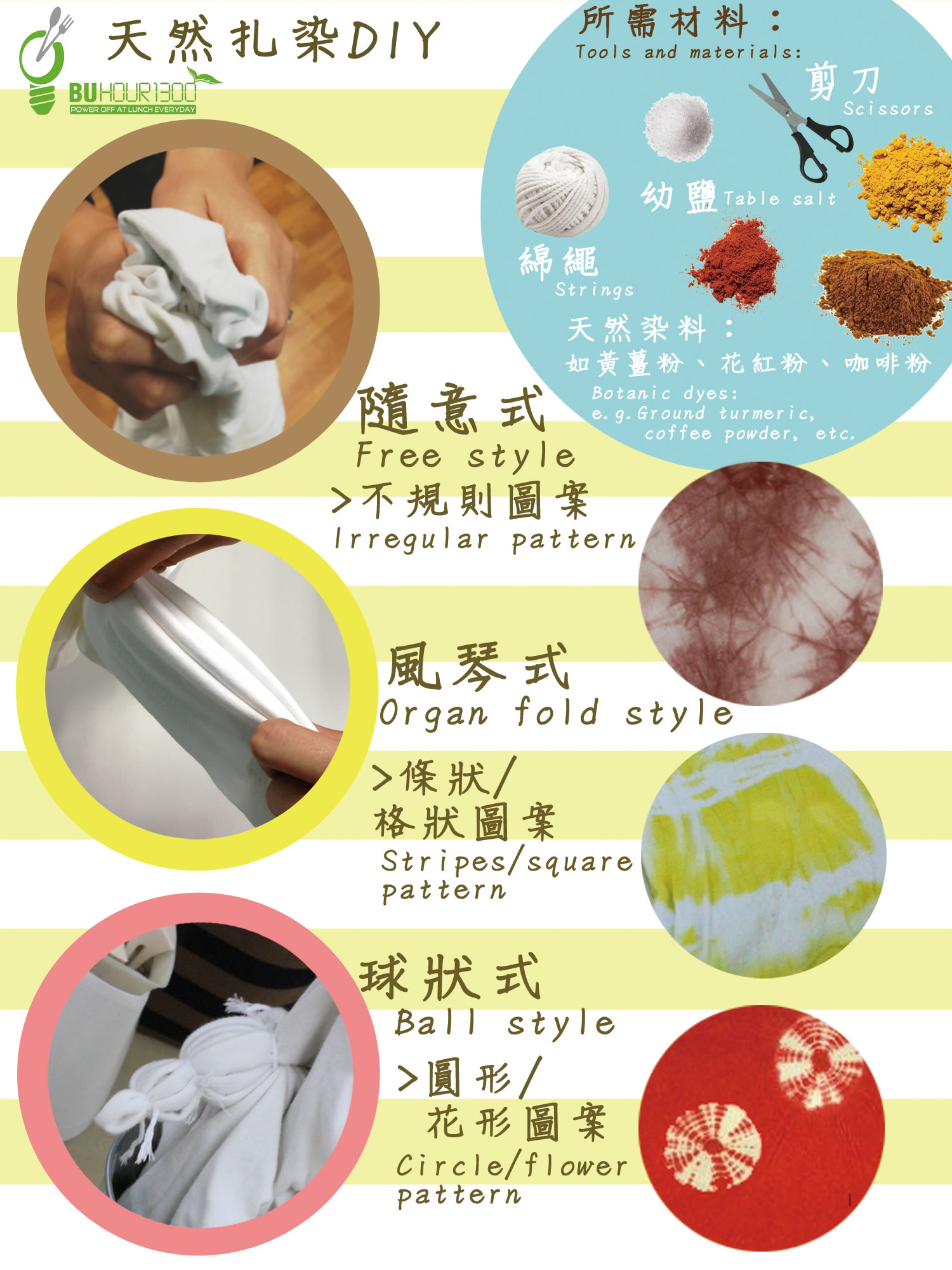 Botanic dyes like ground turmeric and coffee powder are easy to find at local wet markets and gorcery stores. Follow the simple steps shown in the picture and tie your piece tightly, then put the tied piece into boiling water with selected dyes (ratio: 1kg water, 15g dyes and 15g salt), let it remain in the water for 25-30 minutes, wash thoroughly for 5-8 times, and to finish, untie the piece and hang it up for drying.
| | | |
| --- | --- | --- |
| | | |
| It is recommended to work in a group of two in order to tie your pieces really tight to help make your patterns more outstanding. | | After completing the dyeing process, you can cut the leftover fabrics in shapes of circles, then stack and stitch them together to make flower accessories. |
Search your house for unwanted white clothes and have fun with eco tie-dyeing!
Instructor: Ms. Larine Tse, Blooming Art Ltd.